Transition From House Life to Bus Life
Let's just say the transition was a loooooooong process! Patience, acceptance, persistence, and commitment were a constant in order to actually ever finish the bus build enough to hit the road. Shane and I decided over dinner one night in early March of 2018 that we would give up our home, his business, and our lives in Long Beach, buy a bus, and hit the road as soon as possible. We bought the bus April 22nd 2018. Holy hell. . . we went quick and hard at accomplishing our goal and had no clue how much work, letting go, and sleepless nights were ahead of us.
Immediately after buying the bus we had a large yard sale and sold as many of our belongings as we could. We set aside what we thought we would take on the bus and donated the rest. By the end of May we were out of our home and living in the office space of Shane's workshop. We lived and breathed BUS for the next 4 months non-stop. All while raising two toddlers in the shop, still running the business, and building our new home. We did nothing but bus build and work, lived off of BBQ food and watermelons, and rarely slept. We loved, we fought, we cried, we laughed, and we were convinced the bus build would never end. We had projects to finish with clients before we could officially close the business, our bills were falling behind, and we were all tired.
Nonetheless we continued to show up, work hard, parent hard, and love as hard as we could.
When we finally moved into Paisley the Bus full time and closed the office, it was sometime in Mid August. We were so relieved to leave that chapter behind and Paisley the Bus began to feel like home. We still had to stay in town for another 4 week to visit with family, put finishing touches on the bus, and tie up some ends with clients.
What we didn't think about was how hard it would be living in the city on our big school bus. Lets just say we got lots of attention, good and bad.
We got many compliments, plenty of visitors, and lots of excitement. On the other hand we got several notes on our bus asking us to move, we got a parking ticket, and soon found out there were many regulations against parking large vehicles on city streets over night. This became stressful and moving every day was a pain. We finally began paying for a camping spot by the beach and it relieved so much of the chaos. We finally began to feel at home again.
"You see, the thing I've learned most is that living in a bus can begin to feel homeless at times of stress, but it sure feels like the truest meaning of home when we are parked in nature, the kids are smiling, the birds are chirping, and we are all enjoying our every day tasks in the middle of it all. Nature truly is the healing element in it all for me. Nature is home, family is home, and Paisley the Bus is Home. "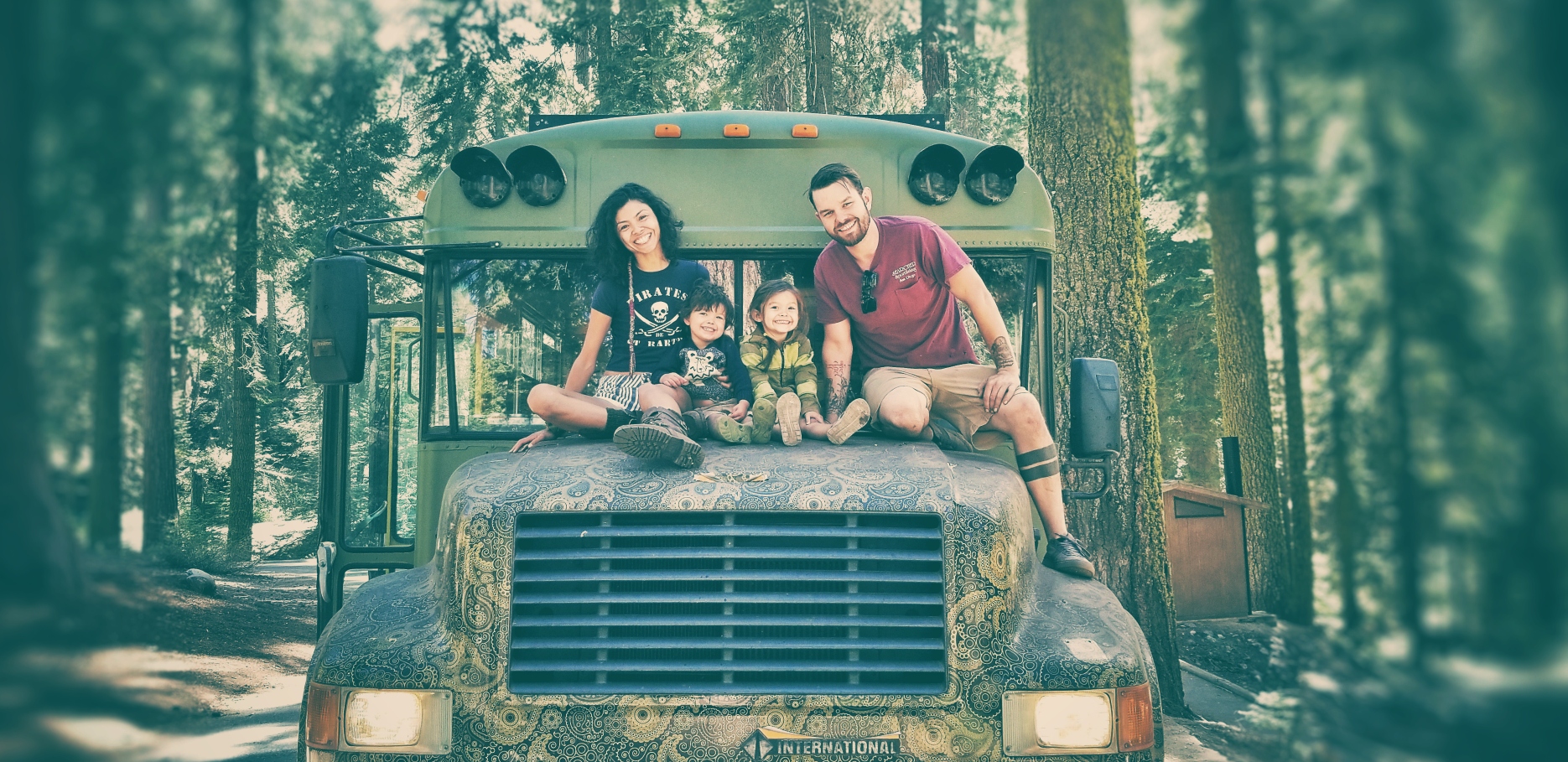 It's February now and we've been living in the bus now for about 7 months, traveling around Northern California, and I do feel pretty well adjusted. I'm used to dancing around Shane and the kids as we pass by each other, stepping on each other's toes, spending way more time together, and getting to function as a family of 4 every single day. I wouldn't trade the ability to live life as a family, travel together, and build new experiences, for any amount of space in the world. Although we have just a small space to live inside of our bus, we have such a large world to live in outside of our doors everyday!
My biggest tips for transitioning into life on the road are: don't second guess it, do it, breathe, breathe more, laugh more, and say your Gratitudes every night before dinner with your family. This is what gets us by :)